The Half-Zombie Zombie Half
There was an unnatural chill in the air, a damp… wrong sort of cold. Nearing the end of May in NYC this would usually be a night made for running a quick loop around the neighborhood, but the misty drizzle barely earned the name of rain.  It's cowardly attempt to wash away the filth and pain in the city was futile.
I sat hesitantly on the edge of my bed, tying my shoes and readying my gear by the warm yellow light of my bedside table. I glanced around, wonderin if it would be the same when I returned.
…if I returned.
My reflection stared back at me. I clenched my eyelids tightly shut, grabbed my blackberry walkie-talkie- just in case I needed help- there may still be survivors; my audio/video equipment would be useless in this weather so I would have to leave it behind, as much as I hated leaving any mission undocumented. I dropped an emergency set of keys in the drop box on my way out, pulled my hoodie tightly around my white blonde hair and struck out into the night.
Thankfully, the roads were isolated for several miles… but then I saw them. Slow moving ones, at least. The undead moving quietly from shadow to shadow, too weak from their distance from their food sources to be much of a threat to me. I gave them a wide berth none the less and kept my eyes peeled for clues that I was geting closer to stronger threats.
It wasn't until I reached te Brooklyn Bridge that I knew fully what I had gotten myself into.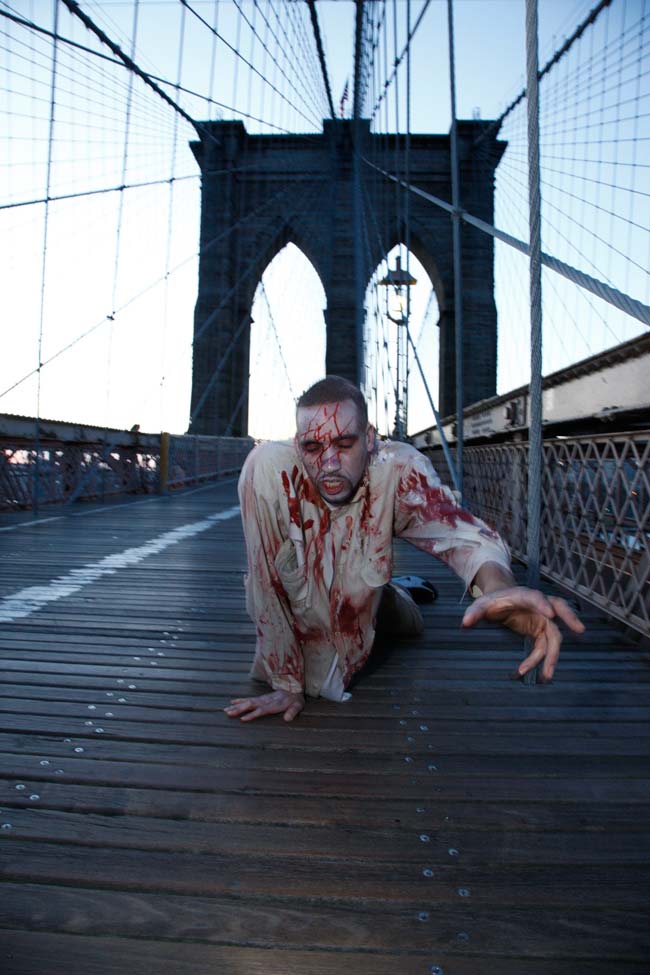 I leapt over the stragglers and dodged between their grasping hands. I wound through the growing crowd, depending on my speed and their brainlessness to get me to the other side. That bridge felt longer than a mile tonight. Gasping for breath, I made my way down the ramp and into the safety of the City Council park.
I slipped between trees and behind trash cans, keeping my ragged breath as quiet as I could. I found a clean water source and used it to wipe the salty rain and sweat from my eyes and to clean the filth fro my hands left by my full contact escape from the bridge.
My feet were killing me but I knew that slightly south of Chinatown was not a safe haven just because the street lights were obscured by red lanterns and lines of drying clothes and fish. I avoided Broadway, deciding that any main road would attract more zombies, more desperate folk trying to steal weapons and food. Instead I ran up the West side, through the silently staring statues of BatteryPark, over the Irish monument on the hill near the ferry.
By the time I reached Chelsea, they were everywhere. Some dragged their feet and others were running in frantic circles. I slowed to a walk. I moved carefully among them, doing my best not to attract attention to myself. I had one misson and one mission only.  I couldn't worry about saving anyone trapped now… they would have to findtheir own bravery. All I could do wa press on alone.
How many friends had I lost? How many partners had fallen by the wayside? How many had given up? How many lost their way? How many were now faceless zombies like those that were now coming up hot on my heels.
Once I'd made it through the death trap of NYU and Washington Square Park, I made a beeline for the Midtown. I needed to get a sit-rep for my source… let them know if the Park was accessible for our next leg of the misson.
It was quiet in the litter-strewn intersections at the feet of the giants. I looked up at the Empire State Building, craning my neck to see the lights at its peak that I knew were not shining.
I tried my radio.
No response.
Keep running.
Just keep running.
I tried to talk myself into a full burst of speed when I was marked. They were there, creeping toward me with a cold and calculated speed.  This was no slow Zombie.  This one was careful. Strategic. He broke into a run in my direction and I blasted down Broadway as though I was a thoroughbred breaking into a derby that my life depended on. I cut around blocks and backtracked, I went under ground and over passes. I ducked through train stations and terminals, through ooted bodegas. I whistled through parks in Alphabet City, dancing between the bodies lying across the paths.
My radio beeped and I chanced a glance behind me. My pursuer was still on my tail though I had made a bigger gap between us. I took the opportunity to scramble up a fire escape and catch my breath while I scribbled a frantic note to my contact. I had info. I had everything he needed. I was headed to the safe house but I was being tailed.
From the fire escape I hit my kick. I ran to the Lower East Side… no longer winding around trying to lose anyone- just full speed ahead. Before I knew it, I was facing a wall of hungry undead, blocking me from the safe house. They screamed at me and grabbed for me, they taunted me and laughed. I slit my eyes at them and ducked into a phone booth.
I didn't come all this way for nothing. I didn't neary kill myself to get our next mission ready to be executed. I just had to cool down.
My phone booth was rocking back and forth from the flesh eating bastard children of humanity pressuring me to come out and meet my fate.
Fine.
I opened the door.
The rain started pouring all at once. Amazingly… zombies look alot like normal people after a bath.
I reared back and shoved into the crowd of them, avoiding the teeth and nails and arms trying to encircle me. It became an exhausted blur, but I made it to the safe house.
Inside it was warm and dry and well barricaded by a stocky set of guards who checked my credentials.
"I got your message" the ly barkeep winked at me. "I have something for you as well. Go clean yourself up in the bathroom first."
I smiled at my flushed face and rain scraggly hair and the pain in my lungs and my butt and my toes. I pulled off my hoodie and rang the water from it. My feet were dragging and I just wantedto curl up and sleep.
"Fuel first. 13.1 miles. You earned it." My contact met me as I came back into the room. He slid a pint of Guiness and a shot of Jameson across the bar to me.
We raised our glasses and clinked them.
"To our next successful mission."
(true story)