Yoovie's PLATEAU Theory - reposted for SELF
Wednesday, January 11, 2012
Your brain does not evolve at the same rate as your body.
Major sections of your personality hinge on your perception of your physical appearance.
Which is controlled by your brain.
Which doesn't change as fast as your body.
You following me still?
As you change the shape of your body, your perception of yourself does not necessarily change at the same rate. Where you may have gone from an 8 to a 6 or from a 22W to an 18… your perception of your body might not have changed at all.
This is very hindering!
"I've lost 50 pounds but can't really seeee the difference!"
"I had to buy an entirely new wardrobe but I dont feel smaller."
"I have no idea what the scale is talking about, cause I still see the fat."
"THIS IS BULLSH*T!"
You'd think that losing the poundage would be an instant and immediate change in our reflection. But that reflection has to go through our brain filters first.
Our brain filters… some good some bad. Like?
1. Comparing to the person next to you or someone else in general. That's the first and quickest way to alter your perception away from your simple sense of sight.
2. Comparing yourself to what you USED to see. This can be good or bad. If you are used to seeing your reflection span the entire width of the mirror and now there are several inches of bathroom wallpaper visible behind you, AWESOME. But you can see how comparing to your old self would also affect what you actually see in front of you, negatively.
3. Inner critics. Moms, aunts, best friends, significant others… all those unwanted, unbidden opinions floating around in your head… alter what your brain is processing.
4. Self-inflicted expectations. These can also be good or bad. Expectations to eat right and be active can have a postive reinforcement in your brain filters. Expectations to lose 9 jean sizes between New Year's and the beach… ehhhh notsomuch helpful.
5. This is the tough one. This is the Reflection that you have gotten used to seeing. The YOU that you ARE. The grownup, this is me, reflection. When we are very used to seeing one person in the mirror, and she starts looking very different…. it can be very disconcerting.
NOW hold that thought….
When you are doing cardio or ST.. and you need a rest to catch your breath and get your bearings… do you take it?
When I run, I run a block or three and then walk a block, run a block or three and then walk a block. It dawned on me yesterday that that is EXACTLY how my weight loss progress goes. But if I walk too long instead of hopping back into a run at the next block… lol guess what, no loss.

Running = losing steadily

Walking = maintaining

Stopping = gaining or giving up.
Now… I walk until I can give my poor ankles a break, catch my breath and adjust my tits. Change the song on my iPod, take a picture, drink some water, ogle a hottie running past. Tie my shoes, wipe the sweat off my face, get it out of my eyes and decide which direction I will go next.
We need these little moments of walking. Think about it.

Give my ankles a break = time off for injuries

Catch my breath = take care of other things going on that have higher priority

Adjust my tits = rearrange your schedule

Change the song on my iPod = find a new way to invigorate yourself

Take a picture = stop to smell the roses along the way OR take a progress picture, take stock in how far you've come

Drink some water = check in on how you are caring for yourself

Ogle a hottie running past = time out for silly ish

Tie my shoes = make sure you aren't doing anything the unsafe way

Wipe the sweat off my face = slough off the bad habits you're steadily dropping

Get it out of my eyes = (DING DING DING - PAY ATTENTION) GIVE YOUR BRAIN'S PERCEPTION OF YOU TIME TO CATCH UP TO WHAT YOU REALLY LOOK LIKE AND FEEL LIKE NOW. YOUR ABILITIES AND DIMINISHED LIMITATIONS. There's a new 'you' to get used to in the mirror.
and

Decide which direction I will go next = Decide which path to take. Do I keep maintaining this walk for a little while until I have done all those things? Do I stop? Do I quit? Can I start running again now? Left? Right? Up the hill?
There are so many things right there that we can get hung up on when we reach a plateau. Sometimes we've handled everything except the part where we are giving our brains and bodies enough time to SYNC UP AGAIN. It's frustrating, I know.
Sometimes, the more weight you've lost… the longer that plateau might last, even if you never stop exercising regularly, never give up eating right, never slow to a walk… but it's time that you NEED so your perception isnt completely out of whack.
I KNOW. BELIEEEEEEEEEEEVE ME, I KNOW. I spent last summer in agony, trying to live in a body that was 90 pounds smaller than the me I'd been used to for a decade. 90 pounds. That's like… Justin Beiber.
I looked a million times better. My skin was radiant from all the water, my hair was badass as usual, but I was taking turns too widely, sucking in my stomach to edge around a chair when I had more than enough room to walk straight past it. Wearing clothing 3 sizes too big. Avoiding any kind of attention at all. Getting angry when someone would tell me I was beautiful and fit because obviously they were mocking me. I was hiding behind people (and door frames/lazy-boys/kitchen islands) still, I was being so harsh on myself. I FLAT OUT REFUSED to date anyone who was physically fit. O_o (wacked out yo)
My stubborn ass needed a plateau so I could get used to my new body.
Here's the trick though… you can't walk forever. One day, you will wake up…. and JUST like the day you woke up and decided (for real) to START this mission to get a better body (for real) and you will realise you can move on from your plateau. You will start running again, and your mind and body will be as one and THEN…
Then the magic happens.
How else would you describe the fact that your body won't lose any weight that your brain doesnt want it to, despite all physical efforts?
If you've hit a plateau, see if you need to adjust your tits, ogle a hottie, tie your shoes, get the sweat out of your eyes or if you are just waiting to pick a direction to go next.
And when you figure it out… grab your brain and start running again.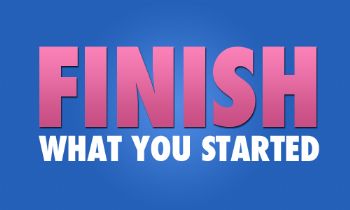 believe-toachieve.tumblr.com
PS. just dont use this as a friggin excuse or weightloss karma will bite you HARD, babydoll.