Crisp (aka the Fist Pump morning run)

6:00 am

I'm laying on my back on my bedroom floor, looking up at my motivation wall and literally, with the most obstinate 3 year old look on my face, flipping off my wall with both hands. I have on one sock, my sportsbra and my running pants. my top is folded under my head so I can be comfortable during my temper tantrum.

My eyes scanned the pictures of the happy running girls in the sunshine on the open roads and hilly hiking trails, their tans glowing in the warmth of the sun. I hate those b%tches sometimes. GET OFF MY WALL.

I look to my right, out my bay window behind my bed. The sky is white. not blue or yellowish or pink- just white- like someone erased all the color. The brownstones of my street are a grayish muted brown instead of the vibrant red they usually are in the sunshine.

ugh.

I hear thunder coming from my laptop, which I left on my bed open to the sparkpeople site while I went to stretch (and ended up here, like I said, flipping off my motivation). Thunder means that weather.com has issued a bad weather warning. Nice. Excuse.

So I roll over and melodramatically crawl over to my laptop to check the weather advisory. please say torrential rain, please say torrential rain.

Wind.

Crap. I can't use that as an excuse. ugh. fine fine fine i'm going. I do my stretches, finished getting dressed, find my other shoe, take all my clothes back off, pee, get on the scale- same as yesterday- good good. Put everything back on, grab my windbreaker and walk out into the 45 degree weather.

It's like half of an avenue block before I get to fifth avenue, just walking- it's my warm up- and then BANG- the streets are lit up like christmas. no not LIKE christmas- they ARE christmas! Sometime in the night they draped giant twinkling banners of lights back and forth across the streets, the lightposts are already broadcasting classical holiday music! *fist pump* I take off running.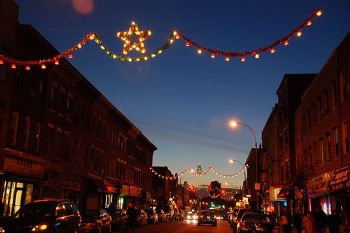 Now, I haven't been running in 2 weeks because of a bad cough and a head cold that wouldn't quit. I didn't want it to escalate into a respiratory infection that would surely ground me for the next month and set back all the progress I made. Even just missing two weeks set me back. I could run two blocks, then walk two blocks, run two, walk two- but I was out there, and it was a 150 ft incline LOL so I know it was good for me. My heart was pumping, my nose was running, I was a scary happy mess when I was flying down those festive sidewalks.

I turned right to run alongside the park to its main entrance about 1/4 mile away. The vibrant yellow and orange leaves are piled against the dark gray stone wall to my left, behind which the hill rises straight up. I'm running with my head tilted back, admiring the pale peach and yellow colored naked trees, some of them the same color as my skin. Aspens and maples and others ones I have no idea of. They all had about 20 brilliant leaves on them and were so beautiful against that blank white sky. I counted 32 squirrels running circles around the sidewalks and playing with each other.

I walked into the park and ran up to the middle of the top of Sunset Park- or as I affectionately call it - Mount Skinnychick! I wish I'd had my camera- but it would have fallen out of my pocket and smashed all over the sidewalk- but here is the view from the top of Mount Skinnychick, courtesy of Google.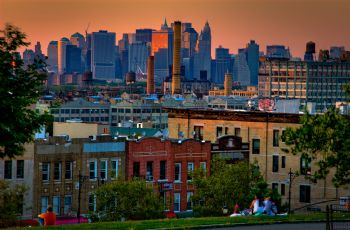 to the left is the statue of liberty and the NJ skyline. To the right- the skyline continues all the way to the Empire State Building (and you can easily see what colors it is wearing each day) and on to Queens.

I raised my arms in the air and let the wind advisory wash over me and swirl my hair around. I felt like I was back. I missed this. Even though I'm walking more than running, I'm still moving! I love moving!

Usually when I run, I sink into my imagination. I put on 'One Night in Bangkok', wear all black, and bright red lipstick, wait 'til the sun goes down and pretend I'm a jewel thief and I run down 8th avenue through Chinatown, like someone is chasing me. I hide in the shadows when I stretch and imagine that other runners are following me, so I try to lose them by sprinting down side streets. There is this one latin girl, she is beautiful and deadly and always runs with all of her jewelry on and big black Chanel sunglasses. Her track suit is black too, but she has this leopard print scarf that you can barely see- I see her everywhere. I call her the Mistress. She is my arch-nemesis when I'm having my jewel thief or James Bond nights.

But today- today I was just me- in the moment, in the real setting where I ran. It hurt, I could feel myself having to break off the protective shell that was starting to encase my muscles when I stopped running. But it was invigorating. I loved it so much. And I'm going to be happy all day because of it.

But I don't regret flipping off my motivation wall. It was being cocky and smug and a bit too pink.

So what part of your fitness routine, or weight loss strategy- makes you really feel alive? Even if you are extremely hesitant to begin it at first?